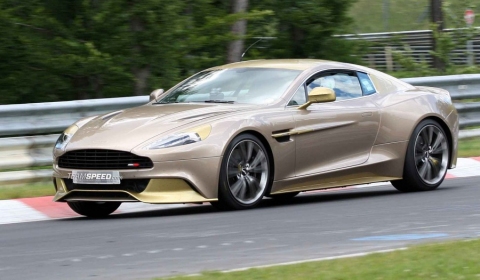 The spies at Teamspeed caught a Golden Aston Martin Vanquish Mk2 test mule today fully undisguised except for a few bits of shiny gold camo-tape, putting in some time at the Ring. The official release is planned for later on this week.
The new Aston Martin Vanquish will still feature the same 6.0 liter V12 as you currently find in the V12 Vantage, DBS and DB9 models. The expected performance is rumoured to be 573hp or around 600hp. The new model features an aggressive front fascia, new hood with air vents, side profile with an interesting One-77-styled design and the new rear fascia with the One-77 rear lights and open rear spoiler. The new front lights are also used on the Aston Martin Virage.
Other features will include a transaxle gearbox and wishbone suspension, and the familiar 'VH' bonded and riveted alloy frame. The real changes for the Vanquish will be in the lightweight construction, lower emissions ratings and increased economy figures. Aston Martin will use carbon fiber and aluminium parts for the bodywork with an all-new shape taking design cues from the One-77 and using a higher bonnet to conform with crash regulations. For the first time, the successor will get automatic windscreen wipers and a touch screen navigation system!
Check more pictures at Teamspeed!