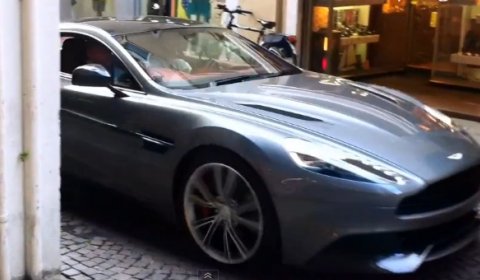 Following a video and picture of the 2013 Aston Martin Vanquish published on our front page ten days ago, we can now show you the full deal. This is the Aston Martin Vanquish Mk2, successor to the current DBS, completely undisguised.
The vehicle was filmed and photographed in Padova, Italy, while driving through the historical city center. The twelve-seconds clip shows the new Vanquish driving past the mobile phone camera showing its aggressive front fascia, new hood with air vents, side profile with an interesting One-77-styled design and the new rear fascia with the One-77 rear lights and open rear spoiler. The new front lights are also used on the Aston Martin Virage.
The new Aston Martin Vanquish Mk2 is based on the AM310 design concept revealed at the Concorso d'Eleganza Villa d'Este 2012 a few weeks ago.
Aston Martin Vanquish will feature the same 6.0 liter V12 as you currently find in the V12 Vantage, DBS and DB9 models. Power will be 573hp, an increase of 63hp. Other features will include a transaxle gearbox and wishbone suspension, and the familiar 'VH' bonded and riveted alloy frame.
The real changes for the Vanquish will be in the lightweight construction, lower emissions ratings and increased economy figures. Aston Martin will use carbon fiber and aluminium parts for the bodywork with an all-new shape taking design cues from the One-77 and using a higher bonnet to conform with crash regulations. For the first time, the successor will get automatic windscreen wipers and a touch screen navigation system!
[Photos first gallery via Teamspeed.com]