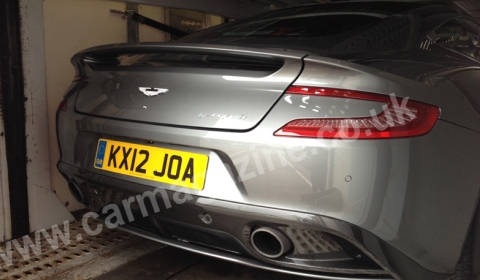 The Vanquish name is back in the Aston Martin lineup, according to CAR Magazine. They report that the British luxury car maker will revive the Vanquish name for the Aston Martin DBS successor, which is based on the AM310 design concept revealed at the Concorso d'Eleganza Villa d'Este 2012 about a week ago.
The magazine also released the very first picture and video of a totally undisguised 2013 Vanquish rear end showing a very different back from the current crop of Astons. The cameraphone spy video shows the integrated rear spoiler and a pair of blunderbuss exhausts part of a large diffuser panel, which is designed for maximum aero efficiency and air-cleaving. You will also spot the One-77 styled rear lights.
For the time being we will call the new model and successor to the DBS, the 2013 Aston Martin Vanquish Mk2. Stay tuned for more soon!