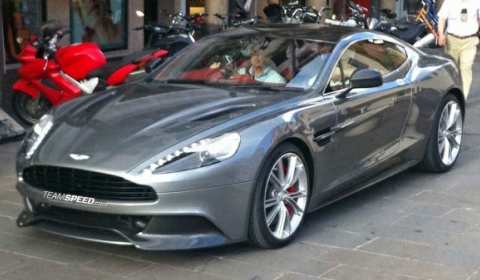 A new chapter to the release of the new 2013 Aston Martin Vanquish Mk2 has been shared by our friend Tim aka Shmee150 this morning. The blog suggests a rift inside the Aston Martin headquarters. According to Tim, Aston Martin CEO Ulrich Bez is unhappy with the looks of new Vanquish Mk2 and the way it has leaked into the world over the past few weeks.
The unsanctioned images which leaked showing the Vanquish badge and the way the car's launch is being handled is causing a rather serious controversy inside the company. According to Shmee150, this may result in changes at the top of the company including a change at CEO level.
Secondly, over the past few weeks we released that the new car would have 573hp, 63hp higher than the outgoing DBS. However, the latest information suggests it will actually break the 600hp barrier. The new Aston Martin Vanquish will still feature the same 6.0 liter V12 as you currently find in the V12 Vantage, DBS and DB9 models.
Other features will include a transaxle gearbox and wishbone suspension, and the familiar 'VH' bonded and riveted alloy frame. The real changes for the Vanquish will be in the lightweight construction, lower emissions ratings and increased economy figures. Aston Martin will use carbon fiber and aluminium parts for the bodywork with an all-new shape taking design cues from the One-77 and using a higher bonnet to conform with crash regulations. For the first time, the successor will get automatic windscreen wipers and a touch screen navigation system!