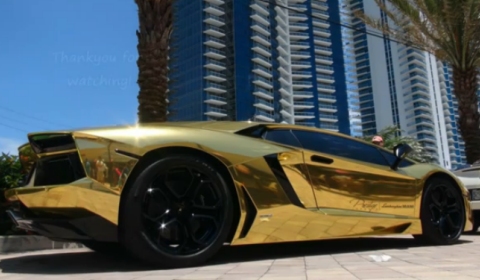 YouTube member Vodeezz was lucky enough to be a part of the official unveiling of Project AU79; the first 2012 Lamborghini Aventador LP700-4 to be foil-wrapped in chrome gold.
The unveiling, as well as the entire supercar can be seen in the video below. Feell free to share your thoughts on this chrome gold finish, hot or not?
Just a small recap, the Aventador is powered by a 6.5 liter V12 with an output of 700hp and 690Nm of torque. The cars weighs just 1,575 kilograms (3,472lb) which gives it a power to weight ratio of 2.25kg/hp or 4.96lb/hp. The Lamborghini Aventador accelerates from 0 to 100km/h in just 2.9 seconds and the top speed is 350km/h.