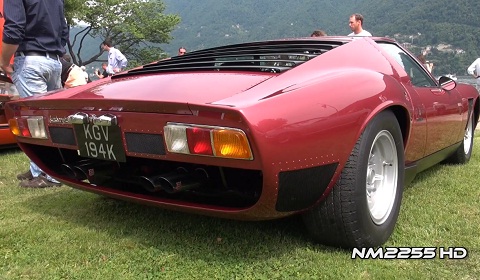 Our friend, NM2255 shot footage of the Lamborghini Miura SVJ at Villa d'Este over the weekend. The car was driven by Lamborghini's iconic test driver Valentino Balboni around the show grounds. In the video you will hear the several start ups and that V12 burble from the exhaust pipes!
The Lamborghini Miura SVJ was the ultimate version of the Miura. It followed the Lamborghini Miura Jota which was a one-off chassis built conform to the FIA's Appendix J racing regulations. Once Miura customers learnt of this one off model, they began requesting their own. Lamborghini's solution was to upgrade the standard Miura SV models creating the SVJ. For the SVJ models, Lamborghini upgraded the engine, suspension components, exterior and interior.
Around 16 Miuras have SVJ upgrades of some description. Only five were fitted by the factory on the production line. This particular example was previously owned by Nicholas Cage who bought it at auction after it was seized from the original owner, the Shah of Iran, in 1995. It is chassis number 4934, it differs from the other factory Miura SVJ's through its lack of riveted bodywork. It has a power output of around 440hp from its 4.0 litre V12.