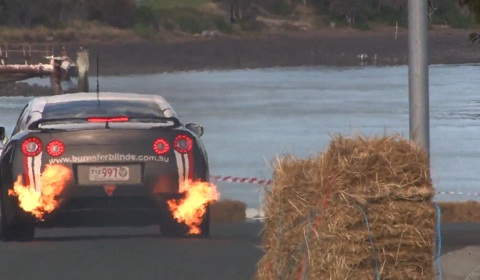 Targa Tasmania 2012 completed on Monday, the event has been documented closely by the organisers with highlight videos posted everyday. A diverse range of cars compete in the event, Lamborghini's and Nissan GT-R's compete alongside Renault Megane's and old Jaguars. We thought we'd share a few from the 7-day Australian event.
The Targa Tasmania is a series of four annual tarmac rallies. Competitions include the Targa Tasmania, Targa Wrest Point, Supaloc Targa Adelaide and Targa High Country. The redult classifications divide up into the following categories: early classic's with a 1971 Ford Capri Perana as leader, late classic's headed by a 1977 Porsche 911 Carrera 3, classic outright headed by the same Capri, early modern headed by a 1999 Mitsubishi Lancer Evolution VI, showroom by the 2009 Mazda3 MPS, 4WD showroom headed by a 2007 Mitsubishi Lancer Evolution X and modern lead by a 2011 Lamborghini Gallardo Super Trofeo Stadale.
You'll probably remember the Lamborghini Gallardo Super Trofeo Stadale from last year's Targa High Country. It eventually won the event despite crossing the finish line on fire! This years event went a little smoother for the team, they managed to finish top of their class again despite engine problems on the final day. Take a look at the videos below for a complete overview.
Day 0
Day 1
Day 2
Day 3
Day 4
Day 5