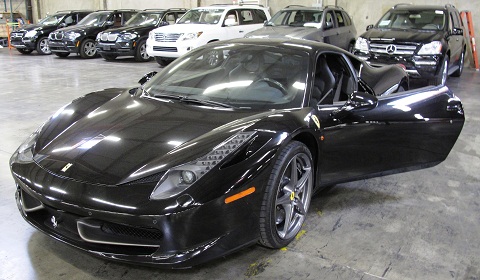 Today we have an update on a story we ran a little while ago involving 16 stolen high end luxury cars, including a Lamborghini Aventador and a Ferrari 458 Italia. We reported a while ago that 16 supercars had been seized by US Customs after they were purchased, leased or rented with fake identities then shipped to Asia in containers marked as used exercise equipment.
Today, Autoblog updated us on the situation after finding a report by CBS This Morning detailing how a Los Angeles-based Rent-in-Style, rental car company managed to uncover the fraud using a GPS device. The 2010 Ferrari 458 Italia was equipped with a GPS tracking system. It was then hired out by the rental company at a rate of $ 2,000 a day.
Following the GPS device, the owner of the company realised something was wrong when the car sat still for a several days. By the time the authorities were called and the last known location of the car was checked, the car had been shipped across to Hong Kong ready to be sold on the black market. The Ferrari was then shipped back and since then, agents have discovered around 20 other luxury vehicles, including the Lamborghini Aventador we reported on earlier.
We're told that US customs seized 61 stolen cars at US ports last year. This haul is worth around the same in value as the combined total last year.