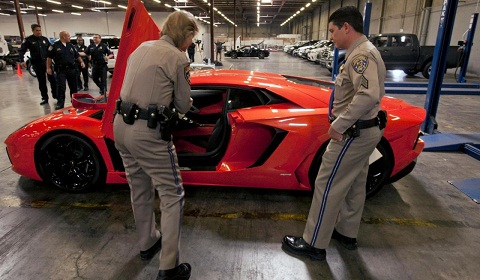 Customs officials recently revealed a haul of 16 supercars that had been seized recently. They were seized after an investigation. Apparently, the vehicles had been purchased with fake identities under lease or by cash in the Los Angeles area, defrauding dealers, lenders and insurance companies in the process. The US Customs officials seized the goods from containers marked as used exercise equipment.
Among the vehicles seized was a 2010 Ferrari 458 Italia valued at $ 280,000, a Lamborghini LP700-4 Aventador, a BMW X5 and other BMW, Audi and Mercedes SUVs. The cars were being exported to Vietnam and Hong Kong where they would have been offered for sale at three times their US value. Four other vehicles were seized in Asian ports.
Californian Highway Patrol investigated after being tipped off by the Ferrari dealer who had used a GPS installed into the 458 Italia to track the vehicle. The cars were found on a ship after it was called back to port following its departure. Together, the cars are worth an estimated $ 1.5 million.