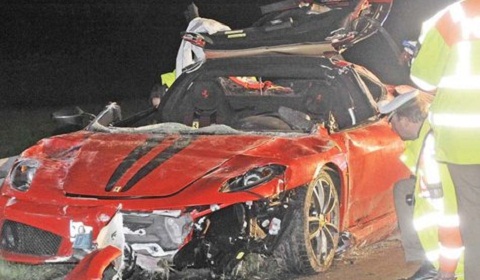 Another unfortunate accident to report, both in the sense that it features a Ferrari wrecked in Munich again, and that the Ferrari involved is another Ferrari 430 Scuderia. This time the accident happened on the highway 96 in the Munich suburb of Germering. The driver is said to be in hospital in a critical condition following the accident.
According to eye witnesses, the red Ferrari 430 Scuderia was accelerating away from a speed restricted section of road when the car lost traction with the wet road surface. This sent the car to towards the hard shoulder, coming to rest under the guard rail. To remove the driver, the fire service had to remove the supercar's roof.
Needless to say, the car is a complete write-off. Although we're sure this will be the least of the drivers worries.
[Via Merkur]