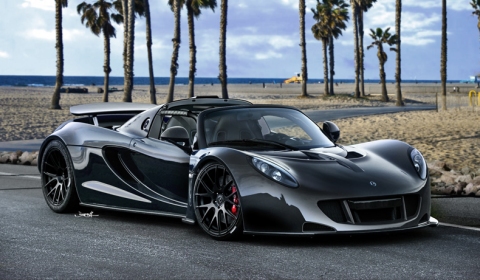 Steven Tyler, lead singer of Aerosmith and American Idol judge will take deliver of the very first Hennessey Venom GT Spyder when American Idol Season 11 finishes on May 23rd. The car will not, of course, be part of the program, Hennessey will just finish constructing it in time for Tyler to use it after the show finishes!
The specification Steven Tyler opted for includes a black exterior with black interior and contrasting red stitching. It will get a custom audio system constructed by JL Audio and tuned by David Frangioni, CEO of Audio One. Steven's Venom GT will be one of the five Venom GT's offered to the public, from what we see, only one more will follow. Three have already been delivered.
Hennessey Venom GT Number 01

The Spyder is powered by a twin turbocharged Chevrolet LS-series aluminum V8 producing 1,200hp and 1,135lb-ft torque mated to a six-speed Ricardo manual transaxle. The Venom is capable of hitting 100km/h in about 2.2 seconds. Top speed will be slightly less than the Coupe's 262mph. Stopping power comes from 15 inch, six-piston front and four-piston rear Brembo carbon ceramic brakes. The price is a considerable $ 1.1 million, at today's exchange rate, that equals 833,000 euros.
In an interview with Inside Line, John Hennessey said:
This past week I had to choose between building a 10 or 9 second ZL1 or to finish Steven Tyler's Venom GT Spyder in time for the American Idol finale. Steven won and so did LPE on their race to the 10's. Steven is the nicest, coolest, most talented guy I have ever met in my life. And when he came to me to build him a special car, I took it as an honor to be able to help entertain a guy who entertains tens of millions of people every week.