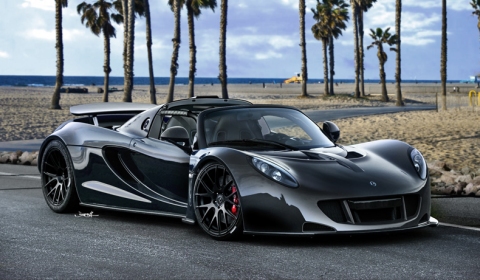 Hennessey Performance will offer its ultra lightweight supercar with a removable roof. Dubbed the Venom GT Spyder, Hennessey's 1200 horsepower, 1200 kilo, mid-engine monster will offer an extra dose of wind and sound when driven without the top.
HPE will only build a limited series of just five Venom GTs for the 2013 model year, two of which have already been ordered. Deliveries will begin in the summer of 2012. Clients can purchase either model: the Venom GT – with a fixed hardtop roof, or the Venom GT Spyder – with the new removable top. Base pricing for the Venom GT is $ 950,000. The Venom GT Spyder is priced at $ 1.1 million.
The Spyder is also powered by a twin turbocharged Chevrolet LS-series aluminum V8 producing 1,200hp and 1,135lb-ft torque mated to a six-speed Ricardo manual transaxle. The Venom is capable of hitting 100km/h in about 2.2 seconds. Top speed will be around the Coupe's 262mph. Stopping the sports car? 15 inch, six-piston front, four-piston rear, Brembo carbon ceramic brakes are available at your command.
Leaves us with one single question; Is this the fastest roadster in the world?