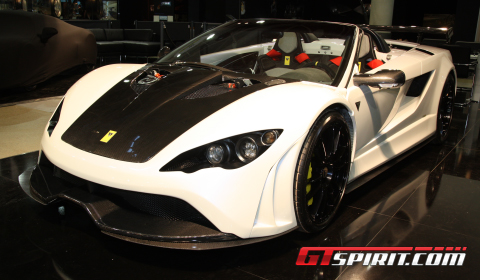 Slovenian carmaker Tushek officially unveiled the Renovatio T500 at Top Marques 2012 in Monaco. This sports car was described by the new manufacturer as "one of the lightest cars in the world with a V8 engine".
The bodywork of the Renovatio T500 by Tushek appears to be based on the lightweight kit car K1 Attack Roadster. The body features scissor doors, a removable hardtop, and a noticeable rear wing. Due to the extensive use of carbon fiber and carbon composites, the car has a curb weight of 1,133kg.
The Tushek Renovatio T500 is powered by 4.2 liter V8 engine which is derived from the Audi RS4. With an output of 450 horsepower and 428Nm of torque, the Slovenian supercar is able to sprint from standstill to 100km/h in 3.7 seconds, and the 200km/h reached within 11.5 seconds. Tushek claims a top speed for the Renovatio T500 in excess of 310km/h.
Also worth mentioning is the Renovatio's stopping power. Thanks to its ventilated carbon ceramic brakes with six-piston calipers up front and four-piston calipers at the rear, a complete stop from 100km/h takes no more than 29 meters ‒ less than the Bugatti Veyron which needs 31.4 meters.