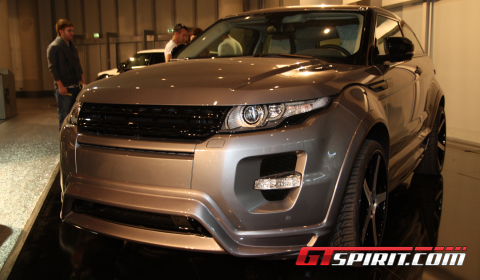 Merdad Collection presented the Mer-Nazz at Top Marques 2012. The Mer-Nazz is based on Range Rover Evoque and received a treatment to enhance the dynamic and sporting profile of the original car.
The compact crossover SUV received a more muscular and aggressive body kit. The Evoque received a makeover consisting of a more muscular and aggressive front and rear bumpers, new sport bonnet, side skirts, air intakes blending into the wider wheel arches ‒ which cover the 22 inch wheels ‒ and a rear spoiler. Carbon fiber details finish off the package.
The interior could be further fine-tuned by adding a new steering wheel, racing pedals, door guards and a floor mat set. It speaks for itself that Merdad also offers a complete personalization of the Evoque's interior.