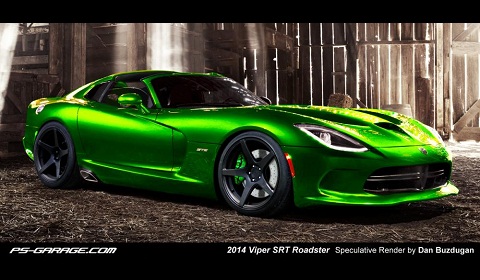 After yesterday's 2013 SRT Viper release, many were hungry to see what the Roadster would look like. PS-Garage have rendered that car, taking inspiration from the first generation Dodge Viper RT/10 rather than the later, fully convertible Dodge Viper SRT-10.
The render reveals a colour change to an electric shade of green, a removable panel-style roof piece and a set of ADV5 Deep Concave rims. Overall, it looks pretty neat. Essentially it gives an idea of what a convertible would look like, and what a set of aftermarket wheels would look like!
For those who missed the launch yesterday, the SRT Viper gets an 8.4-litre V10 unit producing 640bhp and 600lb ft of torque. It has the most torque of any naturally aspirated engine in the world. The Viper includes a carbon-fiber hood, roof, decklid and aluminum door panels. These panels help reduce the weight down to 1,455kg, 55 kg's lighter than the old car. Finally, one of the biggest changes has been made to the interior with a set of electronics for the driver to adjust and complete leather surfaces.
Thanks to PS-Garage for the rendering, if you want more details and photos of the 2013 SRT Viper, head over to our previous article.