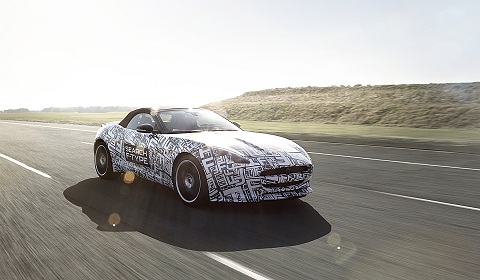 Jaguar today announced that the Jaguar F-Type will enter production as a 2013 model year vehicle. Jaguar chose the New York Motor Show to make the official announcement, perhaps indicating that it considers the US market to be the F-Type's primary market. The Jaguar C-X16 concept presented at IAA last year was so popular, Jaguar have pushed through development of the two-seater convertible.
Jaguar will unveil the F-Type later this year, we presume at the Paris Motor Show. It will use an all-aluminium construction with a range of petrol engines, including a new powerplant family and will focus on driver satisfaction. Today, on-road development starts so you'll start seeing more spyshots of the Jaguar F-Type, clearly identified with the words 'F-Type' on the side!
Speaking at the New York Motor Show Adrian Hallmark, Jaguar's Global Brand Director said:
We showed the C-X16 concept in September 2011, and the reaction to it has been so positive that we've accelerated our development of an all-new Jaguar sports car. That car will be called the F-TYPE, and it will be unveiled in production form later this year. The core appeal of Jaguar's cars is their sporting heart, and that heart will beat stronger than ever before in the F-TYPE. Its development is a vivid representation of the confidence and ambition of the Jaguar brand, and the desire amongst our engineers and design team to produce a world-leader in a market segment that we have been absent from for too long. But no longer – the F-TYPE is coming.
The Jaguar C-X16 Concept featured a next-generation supercharged V6 petrol engine producing 380hp and 450Nm of torque. Integrated into the eight-speed gearbox is a motor generator which draws power from a 1.6kWh battery pack mounted behind the seats for ideal 50:50 weight distribution. Charged through a brake energy regeneration system, the batteries allow the motor to provide an additional 95hp and 235Nm.
Look out for the Jaguar F-Type, on the road by mid-2013!