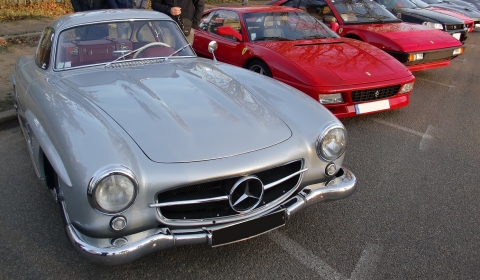 Most of you probably know the concept of the Cars & Coffee, made popular by the Americans. So no need for introduction. The French also have a Cars & Coffee event in Paris, organized by EAP (Emotion Auto Prestige), and the December event was visited by our French reporter Alex Smolik.
Although it was really cold, he was somewhat blessed by a nice weather early in the morning, followed by some more clothes in the afternoon. Nevertheless, many sports car owners showed up, many more than expected, in total more than sixty cars. The highlight of the show was the first Ferrari 458 spider in Paris.
A magnificent Mercedes-Benz 300SL Gullwing and a 300SL cabriolet, two jewels from the historical automotive world, were accompanied by a Fiat Dino. Needless to say, the "plateau" was quite extensive and featured great cars from numerous brands, like the Noble M12, Ferrari 430, 599 GTB, 355, Mondial, Porsche Boxster, GT2, GT3RS 4.0, Maserati MC SportLine, BMW M5 Touring, Lotus Elise, Ford Mustang and many many more.
Alex made some pictures and video to show you the highlights of the show.