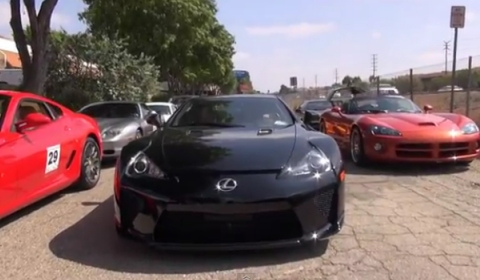 Our man from LA, Drake Mumford, shared another video with us of an event he filmed back in September. It was an exclusive and private event held somewhere in California close to LA, so there is not a lot we can share with you. All we can say is that it's an annual event that takes place each September. It has an extremely high reputation for its turnout and is a favorite event amongst Southern California car photographers.
For the first couple of minutes Drake put together a montage of some of the cars that showed up. The cars ranged from a (factory) one-off Lamborghini Murcielago Roadster LP640 "Versace Edition" to a Ferrari Enzo to a black/purple/gold Porsche Carrera GT.
For those not interested in the video highlights of the cars, skip to 3:30 for pure acceleration sounds. Drake filmed all the cars taking off and he also got a chance to film some of the best cars there ripping it onto the deserted freeway.