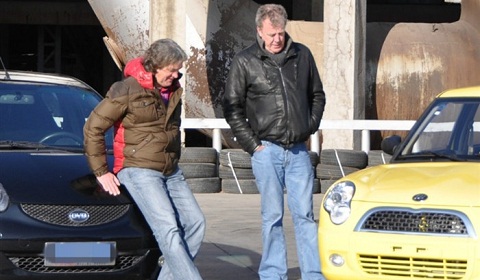 Jeremy Clarkson and James May have been spotted in China filming for the upcoming season 18 Top Gear episodes. The series is set to start again during the first quarter of 2012 and we suspect that these pictures show a group test segment being conducted near Beijing.
It seems that the team have been focusing on reviewing the JAC sedan, Greatwall Hover M2, Greatwall Coolbear, Geely China Dragon, FAW-Etsong Maestro, Little Noble, Double Ring SCEO, and the BYD F0. All appear to be cheap re-productions of European cars so we're expecting the finished segment to be of typical Top Gear quality!
The team used Shanghai plated Land Rover Discovery's and Range Rover's for the filming. Hopefully Jeremy and James took some time out to find out about the rapidly growing luxury car scene over in China. We'll have to wait until the start of series 18 to find out!
[Via ChinaCarTimes]