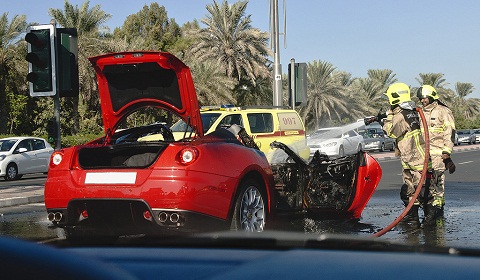 We get the feeling that as fast as Ferrari can build the 599 GTB, customers can burn them to the ground quicker. We've just received a photo and a video of this example that recently burnt down in the United Arab Emirates. It seems that this 599 GTB burnt whilst the owner was driving along, causing him to abandon it in the middle of the road.
It seems this must be a typical occurrence in Dubai as the traffic just seems to continue around the burning Ferrari. Apparently the driver and the passenger got out safely and the fire service were able to extinguish the Ferrari 599 GTB. This one is definitely a write off.
Thanks to SubercarsDubai posters for the video and photo, if you want to see another recent Ferrari 599 GTB fire then check out our post on an Arizona fire last month.