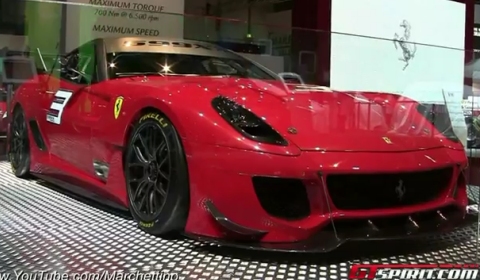 Italian car manufacturer Ferrari publically released their Evolution package for the 599XX track-toy at the 2011 Bologna Motor Show today. The package offers a variety of improvements and changes to the ultimate track-toy. After its official release yesterday, we can now show you the package live at the Bologna Motor Show 2011.
The 599XX now features improved chassis dynamics thanks to an active aerodynamic package integrated with the vehicles' electronic control systems, and the adoption of new Pirelli tyres. The car is also more powerful than before (750hp) and weighs 35kg less.
The key to the aero package is the active rear wing design which represents a new aerodynamic concept called 'opening gap'. The wing features two flaps, with profiles similar to those used in Formula 1, which rotate electronically to adjust the downforce between the front and rear axles in function of vehicle speed and the manoeuvre being effected. The result is better performance in cornering.
The new aerodynamics package for the 599XX also includes a modified front splitter and a new rear diffuser featuring a larger surface area and redesigned fences and foot-plates. Total downforce at 200km/h is boosted to 330kg when the flaps are open and 440kg in the closed configuration.