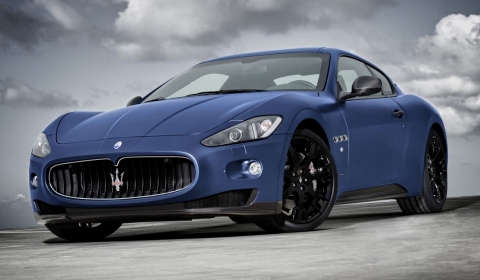 Maserati is presenting the GranTurismo S Limited Edition at the 2011 Bologna Motor Show today to celebrate 150 years of Italian unification. With a limited edition of twelve cars intended for the Italian market, the Granturismo S Limited Edition is characterised by special trim levels and contents.
The model's exterior is dressed in matte Sebring Blue. The color is combined with carbon elements, like the front spoilers, side mirrors, door handles and rear spoiler. The brake calipers are made of hand-polished aluminium and are easily visible behind the 20 inch rims. The side skirts are painted matte black, as are the headlights.
As far as the interior is concerned, it is quite common to the MC Stradale version. There is a carbon frame for the instruments, the controls on the dashboard and central tunnel. A commemorative Centocinquantenario – 150th Anniversary – of Italian Unification plate is located at the base of the central console. It bears the official logo as well as the number of units produced, to confirm the exclusivity of this version.