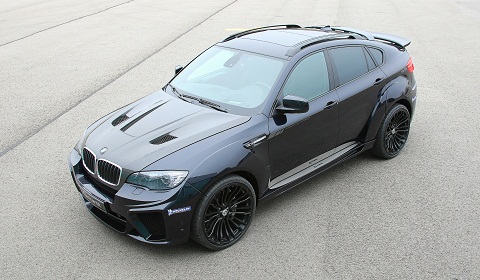 G-Power has unveiled their wide body kit for the BMW X6 M. It receives increases in power, aerodynamic performance and cosmetics. This model slots between the 900hp Typhoon RS and the 600hp Typhoon performance package also offered by the German tuner.
G-Power have been able to increase the power of the 4.4 liter V8 by changing the turbo- chargers. The new bodykit makes this possible by improving cooling by 15 percent. As a result, the Typhoon X6 M gets an extra 170hp giving the SUV a total horsepower figure of 725 at 6,000rpm. Torque rises up to 890Nm at 1,500rpm, an increase of 210Nm over the standard X6 M.
To get this, they have made changes to the engine mapping and changed the twin-turbo- chargers. A fully stainless steel G-Power exhaust system results in a reduction of back pressure. A set of sports catalytic converters exhaust manifolds optimise the turbochargers further. New connection pipes have also been installed between the turbochargers and the cylinder heads. The above torque figure is electronically limited, strengthening to the automatic transmission can be achieved for a maximum torque of 1,000Nm.
After removing the limiters, a top speed of greater than 300km/h should be possible, as well as a sprint time between 0 and 100km/h of around 4.2s. The Typhoon wide body kit is pretty well known already. G-Power produce each one in OEM quality PU RIM developed using state-of-the-art CAD technology.
New front and rear flared wheel arches are characteristic of the Typhoon style. They give the X6M an extra seven centimeters of width and increase the wheel arch space enough to house 23 inch wheels. A new carbon fiber hood has been designed with cooling in mind. New side sills house five LED units on each side that light the ground when activated by a button or an open door. Both front and rear bumper have been replaced and a rear diffuser added. A roof spoiler and a multi-piece carbon wing have been added as well as a four-part under-body panelling system.
Braking comes in the form of G-Power ceramic brakes for both the front and rear axle. Six-piston brake calipers can be fitted to the front. They bite onto 396mm rotors and four-piston calipers can be fitted into the rear axle on 380mm rotors. 23 inch G-Power Silverston Edition forged wheels have been developed specifically for the Typhoon models. They measure 11Jx23 up front and 12Jx23 at the rear. Each corner sports 315/25 ZR23 high-performance Michelin tyres. G-Power also offer a coilover suspension kit which lowers ride height by 30mm.
An ergonomically designed sports steering wheel, G-Power speedometer and a whole host of other options can be added to the interior. Leather and Alcantara can also be provided for. The aerodynamics package starts at € 13,361, the optional Venturi hood is € 5,865.55 and the 23 inch wheel set with Michelin tires is € 8,865.55. The coilover suspension is priced at € 3,029, whilst engine upgrades cost € 13,526 and ceramic brakes are € 14,460.50 for the front and € 11,778.15 for the rear axle. All prices are inclusive of tax and installation.