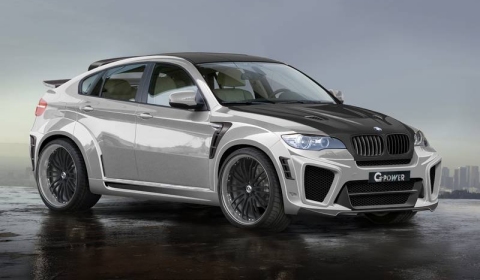 German tuner G-Power has created the world's fastest SUV based on the BMW X6 M in a limited edition of only five units. The G-Power X6 Typhoon RS ultimate V10 comes with 900hp and a top speed of more than 330km/h (205mph). Based on the standard X6 M with its twin turbo-charged engine the tuner exchanged the standard power train for the 5.0 liter V10 power unit from the current M5.
In addition, the G-POWER BI-compressor system – taken from the G-Power M5 Hurricane RR – was developed one stage further and at the same time the cubic capacity of the BMW V10 power unit was increased from 5.0 to 5.5 litres. This means more space for the supercharged air from the twin ASA T1-316 compressors which will be cooled to optimum performance temperatures by the double-flow, water-cooled intercooler.
An optimised data map for the engine electronics is also available for the V10 power train. The result is a peak performance of 900hp (662kW) at 8,000rpm and a maximum torque of 870Nm at 6,800 revs. The power output is transmitted by a six-speed gearbox built by G-Power to the rear axle. The automatic gearbox fitted as standard, just like the standard BMW xDrive all-wheel drive system, have been sacrificed by the G-Power engineers.
G-Power claims that the X6 Typhoon RS ultimate V10 is the fastest SUV in the world. A sprint to 100km/h (62mph) takes a mere 4.2 seconds. In less than 13.0 seconds the SUV is already up to 200km/h (124mph). The top speed is over 330km/h (205mph).
The three-part 23 inch G-Power Silverstone RS forged wheels measure 11Jx23 at the front and 12Jx23 at the back. The rims are outfitted with 315/25 ZR 23 high-performance tyres from Michelin. The upgraded braking system includes 410mm carbon-ceramic brake disks and six-piston callipers.
In the vehicle interior, the main subject is weight reduction. After getting rid of the heavy xDrive all-wheel drive and making use of titanium as the material for the exhaust system, the four ultra-light carbon individual seats in the vehicle interior complete the weight reduction programme. Overall is the car circa 150kg lighter than the standard version. Within the interior several refinements were added to ensure the Typhoon RS is more than just an unique car. Same goes for the exterior which got a new full wide body kit.
The G-Power X6 Typhoon RS ultimate V10 can be ordered as a completely finished vehicle from the G-Power manufactory in Autenzell. The edition is limited to 5 vehicles worldwide.