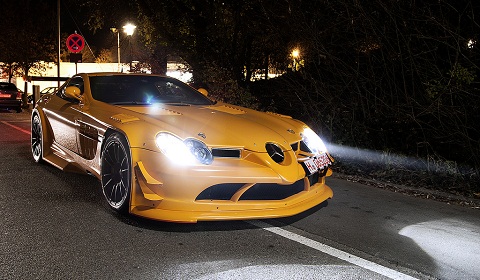 Sievers are a German tuning company owned by Matthias Sievers, an engineer with six years experience at Mercedes-Benz. They focus mainly on McLaren-Mercedes SLR's and they offer a range of enhancements from exhaust systems to power upgrades and even custom interiors. For the 2011 Essen Motor Show they displayed a road legal version of the SLR 722 GT.
This is the only road legal SLR 722 GT in the world. However, Sievers haven't simply converted the car to comply with road regulations. They've added a bit of extra power too! The SLR 722 GT featured an engine that was pretty much stock. It had 30 extra horsepower over the top of the range SLR 722 for a top figure of 670hp. This McLaren puts out a lot more than that. 814hp is now at the drivers disposal alongside an estimated 1,200Nm of torque in a body that weighs only 1,500kg.
Sievers have had to modify the panels a little more. Speedheads claim that the quality of the panel fit has increased. It's evident just from looking at the car that the design has become even more aggressive. Seivers have added extra parts to the front bumper creating even more downforce whilst removing very little else.
Aftermarket KW coilover suspension has been added. 11×19 inch OZ-rims with "Trofeo Pirelli" tires in size 295/30 rear and counterparts in 12×19 inches with 325/30 tires allow the SLR 722 GTB to make progress legally! € 1.19 million, including VAT will get you this car, or another built to your own spec. Interestingly, while researching this car we also found out that Sievers offer a 1,000hp version of the SLR.
The video below was shot by JustinsSupercars, at Essen 2011, on the show floor.
[Photo Credit: Kai Dalibor]