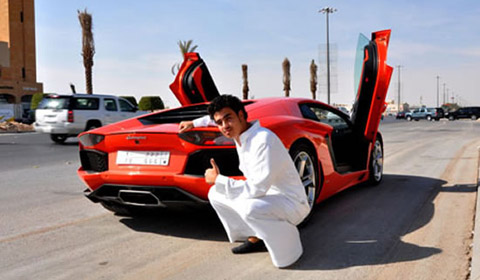 Perhaps you remember Dhiaa Al-Essa, the 22-year-old Saudi Arabian student and his impressive collection of supercars worth more than $ 12 Million. He was also the person that lost his yellow 458 Italia in the warehouse blaze at Heathrow last year.
Dhiaa Al-Essa has added a new toy to his collection. The young Arabian paid nearly $ 461,000 — an additional $ 71,000 over the regular price of $ 390,000 to skip the 18-month waiting list — to be the first in the country with the Lamborghini LP700-4 Aventador.
Money is not an problem for Dhiaa Al-Essa. His father is a business tycoon estimated to be worth $ 2.4 billion. Dhiaa said:
It's amazing the Lamborghini has arrived. I wanted to be the first in Saudi Arabia to get the Aventador. Of course there is competition but for me personally it is not a competition, I just love cars – and if you want to be first you have to work hard and pay more.
The Aventador will be added to his impressive collection which includes a Bugatti Veyron Super Sport, Koenigsegg Agera, Rolls-Royce Coupe, Rolls-Royce Phantom, Range Rover (2x), Mercedes McLaren SLR, Lamborghini Gallardo, Lamborghini Gallardo Superleggera, Lamborghini Murcielago P640, Ferrari F430, Ferrari 599 GTO, Ferrari 599, Ferrari 458 Italia, Ferrari California, Ferrari F430 Novitec Rosso, Porsche 997 Turbo, Porsche 997 GT3 RS, Porsche 997 Turbo Spyder, Porsche Cayenne Turbo, Porsche Panamera Turbo, Bentley Continental GT, Mercedes S65 AMG, Mercedes G55 AMG, Mercedes E63 AMG, Mercedes CL65 AMG, BMW M5, BMW X6M, BMW X5M, BMW 760LI, Audi R8, Audi A8, Lexus LS460, and Maybach 62.
It makes you wonder, what will be next for Dhiaa Al-Essa?
[Via SmallWorld]