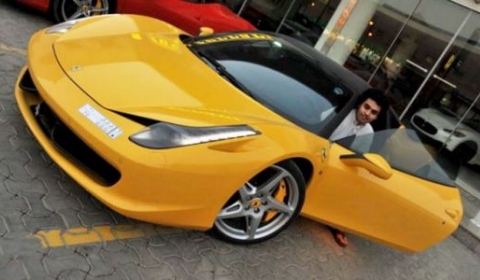 Ever wondered how you would feel if you had a supercar collection worth £ 4.5 million? Ask engineering student Dhiaa Al-Essa! He has thirty luxury motors in his garage, including four Ferraris, five Porsches, three Lamborghinis, two Rolls Royces and a Mercedes SLR McLaren. And it is not the complete story. The value of his collection is set to expand 70 per cent next year when he takes delivery of two more cars.
His Saudi business tycoon father is to buy him a Koenigsegg Agera – complete with gold key – for his 22nd birthday, a brand new Ferrari 599 GTO Roadster and a Bugatti Veyron Super Sport is on order. This is an addition price tag of £ 3.5 million.
All have personalised number plates featuring the figures 070, costing about £100,000 a time. The international playboy has spent the summer flying his cars to London, Montreal, Las Vegas and New York to go on driving tours with friends.
I love speed but the limit in Saudi Arabia is 75mph so I'm pretty limited. When the Bugatti arrives I hope to take it to Germany where you can drive as fast as you can. The Mercedes McLaren SLR is my favourite. I love the way it looks and drives and it's also been reliable for a car out in 50ºC temperatures.
Perhaps you know Al-Essa. He was the person that lost his yello 458 Italia in the warehouse blaze at Heathrow last month. The disaster forced him to use – read carefully people – his Mercedes and even the Underground. He loved travelling on public transport, but his torment will be short-lived because he is replacing the wreck.
The total list of the vehicles includes: Rolls-Royce Coupe, Rolls-Royce Phantom, Range Rover (2x), Mercedes McLaren SLR, Lamborghini Gallardo, Lamborghini Gallardo Superleggera, Lamborghini Murcielago P640, Ferrari F430, Ferrari 599, Ferrari 458 Italia, Ferrari California, Ferrari F430 Novitec Rosso, Porsche 997 Turbo, Porsche 997 GT3 RS, Porsche 997 Turbo Spyder, Porsche Cayenne Turbo, Porsche Panamera Turbo, Bentley Continental GT, Mercedes S65 AMG, Mercedes G55 AMG, Mercedes E63 AMG, Mercedes CL65 AMG, BMW M5, BMW X6M, BMW X5M, BMW 760LI, Audi R8, Audi A8, Lexus LS460, Maybach 62.
[Via SmallWorld]