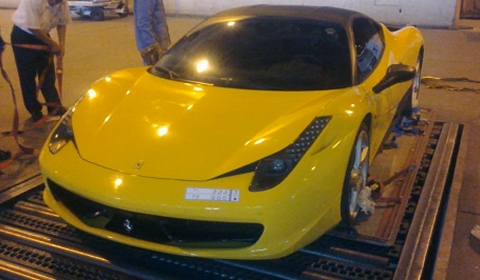 At first sorry to all Ferrari fans, but another Ferrari 458 Italia has been destroyed. This time it was not a car crash or an engine fire. The €300 000+ Ferrari 458 Italia Giallo Modena with custom made Dolce & Gabbana interior was destroyed in a fire in the cargo warehouse at London Heathrow airport on Friday 9th of July.
The aftermath of the whole story is quite interesting to read for those of you planning to transport their cars, please check the communication below and watch the video.
DAMAGE TO FERRARI CAR

We refer to the correspondence in connection with the unfortunate damage to a Ferrari car consigned on the above Air Waybill. The carriage of this consignment is subject to the terms of our Air Waybill which incorporate the international law applying to the carriage of cargo by air. As you may know, contracts for the carriage of cargo by air from the Kingdom of Saudi Arabia to the United Kingdom are governed by the Montreal Convention.

Under Article 18 of the Convention the carrier is liable for damage to cargo which occurs during the period defined by the Convention as "carriage by air". Carriage by air is defined as "the period during which the cargo is in the charge of the carrier, whether in an airport or on board an aircraft".

The Air Waybill on which the Ferrari car was consigned shows the gross weight of 1,650 kilos and consequently our client's liability is limited to 31,350 Special Drawing Rights (approximately US $ 46,994.70). We would be obliged if all future correspondence concerning this matter could be addressed to us at the above address quoting our reference.

Yours faithfully, Emirates SkyCargo

Ithrath U Cargo Customer Relations Manager
Dear Emiratres Airlines and Mr. Pradeep K – SVP Emirates SkyCargo,

In addition to and referenced E-mail below in which I already explained the mistakes done by Emirates, The car wasn't in transit according to your system and documents which showed that the car was already in the UK , and the UK customs received the money and released the car, also our agent had customs cleared the car in the early morning and were waiting on a car transporter to arrive at Heathrow for onward delivery ( which we already have all the related documents), therefore it will not follow the Mont real Convention and it will be under the British Law.

Therefore the claim should be settled between you and Serviseair asap as the good reputation of Emirates should maintain as it is known across the world and in the Gulf Areas and Saudi Arabia especially.

Hope to hear good news from you.