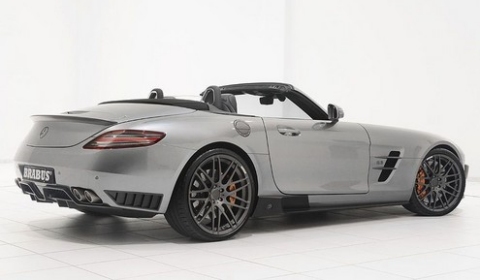 Belgian car website Autofans.be managed to get two pictures of the upcoming Brabus SLS 700 Biturbo Roadster, which will be revealed tomorrow at the Essen Motor Show 2011. The roofless SLS follows the release of the tuned coupe at the 2011 Geneva Motor Show in March.
The Germans fitted a similar setup to the SLS AMG Roadster as they did on the Gullwing. This means you will be able to get 700hp at 6,600rpm and a peak torque of 850Nm at 4,300rpm, which gives the car enough power to reach a top speed of 340km/h. To achieve this, Brabus have used custom-developed twin-turbochargers fitted with air diverter valves. What's more, these turbochargers both rotate different ways; the left side turning left of the engine and the right side turning right.
The front fascia of the coupe has the new Brabus front spoiler. The spoiler further reduces lift on the front axle at high speeds. The two Brabus covers for the upper air inlets in the bumper lend provide better cooling air supply. The rear appearance of the Mercedes SLS AMG has the Brabus rear spoiler and the Brabus rear fascia element that features custom-tailored cutouts for the four exhaust tips of the Brabus sport exhaust system. All components are available either made from clear-coated carbon fiber for a true racing flair or can be painted to match or contrast with the car's exterior color.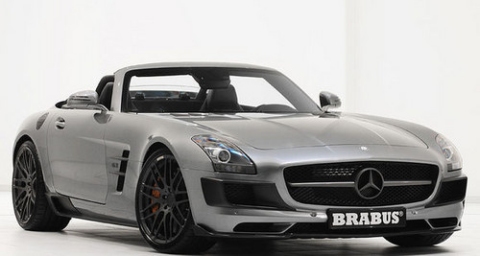 Forged wheels are custom-developed for the SLS. You can choose for a staggered tire/wheel combination with diameters of 20 inches in front and 21 inches on the rear axle. The ultra-light Brabus Monoblock F Platinum Edition cross-spoke wheels are up to twelve percent lighter than the stock wheels and are mounted in size 9.5Jx20 in front and in size 11Jx21 on the rear axle. The wide high-performance tires in sizes 275/30 ZR 20 and 295/25 ZR 21 are supplied by Pirelli and Yokohama.
We also expect to see a height-adjustable Brabus smooth-ride suspension and a speedometer with 400km/h scale (250 mph) fitted to the sports car from Stuttgart. An ergonomically shaped sport steering wheel is also part of the Brabus customization program as are stainless-steel scuff plates with illuminated Brabus logo and matteanodized pedals.
Stay tuned for more tomorrow when we visit the Brabus stand at the Essen Motor Show 2011.
[Via Autoblog.nl]