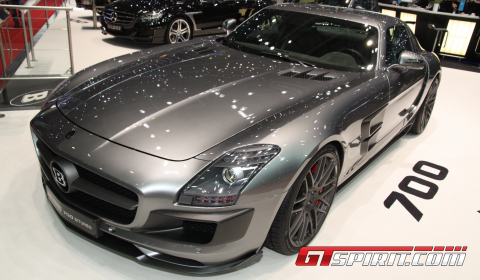 Brabus has unveiled the 700hp BiTurbo performance package for the Mercedes SLS AMG at the Geneva Motor Show.
Presented for the first time in August 2010, Brabus has already a history with upgrading the Mercedes SLS AMG. The German tuner presented the SLS AMG Widestar at the Essen Motor Show back in December. They also released a sneak preview a few days ago.
The technical headline figures are 700hp at 6,600rpm and a peak torque of 850Nm at 4,300rpm, which gives the car enough power to reach a top speed of 340km/h. To achieve this, Brabus have used custom-developed twin-turbochargers fitted with air diverter valves. What's more, these turbochargers both rotate different ways; the left side turning left of the engine and the right side turning right.
More information on the package can be found here