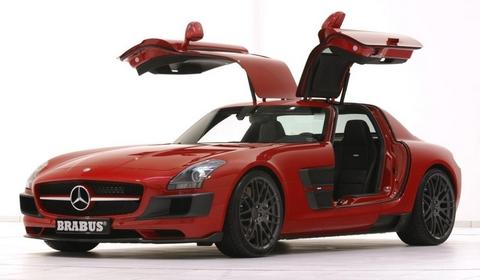 One of the biggest tuners at Essen 2010 is Brabus. The German tuner from Bottrop brought their best programs to the show. At the stand we spotted the iBusiness S-Class and the stunning looking Mercedes-Benz SLS AMG Widestar.
The program for the SLS got a new carbon-fiber body kit shown on the pictures below. The kit includes add-on parts for the rear fenders and the rear fascia, a front spoiler for the production front fascia, air outlets for the front fenders, a rear spoiler and a rear diffuser. Two covers for the upper air dams of the bumper and side air outlets for the rear fascia complete the package. All parts are available with a matte or glossy clear-coated finish for a true racing look. Optionally these components can be painted in body or contrasting color.
In addition, the tuner also offers ultralight forged wheels, an electronically adjustable Ride Control smooth-ride suspension, stiffer sway bars for front and rear axle, a titanium high-performance exhaust system with electronically controlled sound management and custom interiors. The titanium performance exhaust system weighs only 12kg and boosts the 6.2 liter V8 with additional 10bhp. The electronically adjustable suspension kit from Bilstein allows the SLS AMG to be lowered by up to 30mm.
On the inside you will find carbon fiber inlays in a variety of colours, matte aluminium pedals and foot rests. The new sport steering wheel is lined with a combination of Alcantara and leather. Also nice is the 400km/h (250mph) speedometer.
Brabus is working on a performance package for the SLS AMG. The development is finished somewhere at the end of this year. Stay tuned for more from Brabus.