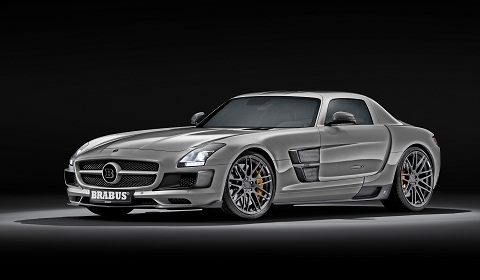 Brabus have officially released details on their Mercedes SLS AMG project, the 2011 Brabus SLS AMG 700 BiTurbo. As is usual for Brabus, they haven't spared the details! This SLS is powered by the new twin-turbo engine developed by Brabus.
The headline figures are 700hp at 6,600rpm and a peak torque of 850Nm at 4,300rpm, which gives the car enough power to reach a top speed of 340km/h. To achieve this, Brabus have used custom-developed twin-turbochargers fitted with air diverter valves. What's more, these turbochargers both rotate different ways; the left side turning left of the engine and the right side turning right. Brabus claims this solves the issue of turbo lag making the car more responsive under acceleration.
High-performance exhaust manifolds, a custom water-to-air intercooler system and specially manufactured forged pistons have also been added. All modifications have been optimised by ECU upgrades and an integrated electronic boost pressure control. Even with the modifications, the 700 BiTurbo still meets strict emission limits set by EURO V standards.
A new free-flow high-performance high-performance exhaust system has also been installed featuring four slanted tailpipes. This is manufactured from ultra-light titanium and weighs 12kg less than the production exhaust. A butterfly-type valve system can be controlled from the cockpit to give the appropriate soundtrack.
A Speedshift DCT seven-speed sport transmission aids in getting the SLS from rest to 100km/h in just 3.7 seconds and 200km/h in 10.2 seconds.
The bodykit is a Brabus Widestar kit. Developed in the wind tunnel, all pieces are manufactured from lightweight, high-strength carbon-fiber compounds. They can be finished in raw carbon look or coloured to fit the rest of the bodywork. The flares on the rear axle add 20mm to the width of the car. A new front spoiler, upper air inlets, spoiler lip, diffuser, rear apron, side skirts and front fenders have all been added.
Brabus Monoblock F "Platinum Edition" wheels are fitted in size 9.5Jx20 at the front and size 11Jx21 at the rear. They weigh 12 percent less than OEM rims. Pirelli or Yokohama tyres can be fitted.
Suspension has been handled by Bilstein. Ride height can be lowered by up to 30 millimeters (1.2 in.). Brabus have added sport stabilizers on the front and rear axle and an optional front lift system can be included to lift the front up by 50mm.
As ever, the interior can be tailored to a high quality, catering to pretty much any taste. An ergonomically shaped sport steering wheel, speedometer with 400km/h dial and matte or shiny carbon fiber accents in any desired colour can be ordered. The final part of the package is the matte anodized aluminum pedals and foot rests.