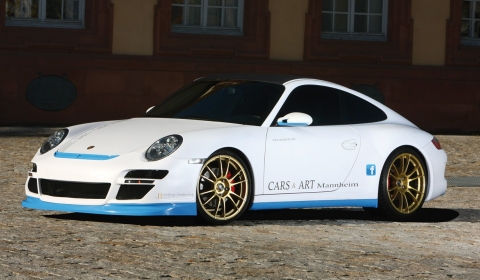 Mannheim company Cars & Art created this 2005 Porsche 911 Carrera 4S. Regarding looks, Cars & Art gave the 911 a complete matte-white foil cover, while adding some high-gloss baby-blue elements.
Another addition is provided by the OZ Racing Ultraleggera HLT-wheel rims in racing gold. Cars & Art installed them in a 8.5×20 inch ET55 size with 235/30R20 tyres in front and in 12.5×20 inch ET51 with 325/25 Dunlop Sport Maxx GT tyres in the rear.
In-house developments include front and tail covers, complemented by a GT3 spoiler lip. A H&R threaded chassis puts the 911 about 35 millimeters closer to the asphalt all around. The Cars & Art-Porsche conversion is completed by a modified exhaust system with flap control.