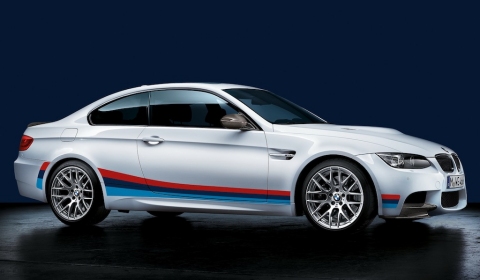 The Essen Motor Show 2011 will host numerous brands, tuners and car manufacturers. BMW will make its first appearance at the tuning event starting tomorrow. They will showcase their BMW Performance and BMW M Performance divisions.
At the BMW stand we will come across a lineup of models like the 1-Series, 3-Series, X5, X6, X5 M, and X6 M, all factory tuned. At Essen 2011 the BMW M3 Performance will debut as pictured in the gallery below.
The vehicle will have a new stripe package released earlier this summer. The stripes look back to the classic look of the 70′s. The package features a six pieces, three on each side. It is expected that a similar package will be available for the BMW 1-Series M Coupe.
Other parts fitted to the car are an exterior and interior carbon fiber trim, BMW Performance Alcantara sport steering wheel and a BMW Performance pedal set. On the steering wheel the standard center yellow stripe has been replaced by a M approved blue one.
Stay tuned for more from the Essen Motor Show 2011.