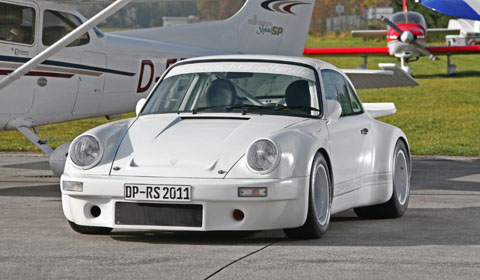 The iconic Porsche 911 Carrera is considered by many to be the greatest classic 911s of all-time. The design and style of the classic Porsche is widely appreciated and valued. This had led to the creation of the Singer 911 and now another company had restyled the classic 911.
German tuner DP Motorsport has transformed a Porsche 911 from 1973 — the same year the tuning company was founded — into a lightweight specification by employing carbon-fiber. The DP RS 2011 bodykit, including front bumper and hood, fenders, lightweight doors, rear fender flares, rear bumper and rear spoiler, is manufactured from the lightweight material.
The windows and lamp covers were also replaced to save weight. Furthermore the German tuner installed lightweight tail lamp holders, a carbon air conditioner cover and underride protection, and a carbon roof panel to chop down the weight. Thanks to all these modifications, the DP Motorsport Porsche 911 RS 2011 weighs only 870kg (without fuel), compared to the standard 1,080 to 1,335kg depending on the type and equipment.
DP Motorsports has also improved the 310 horsepower 3.6 liter Boxer engine by installing a new carburetor with open air filters and paired it with a G-50 Gearbox and limited slip differential. The German company fitted Fuchs wheels measuring 9×15 inch and 13×15 inch coupled with 225/50-15 and 345/35-15 tires. Also a coilover suspension with adjustable stabilizers has been installed. For stopping power the DP Motorsports Porsche 911 relies on an adjusted braking system originating from a 964 model.
The inside of the classic Porsche has been enhanced as well by fitting bucket seats, a light carbon dashboard, sports steering wheel, a special knee bar set, raised central tunnel and safety cage. Whereas the exterior is colored white, the interior is dominated by contrasting black Alcantara.
Information regarding the performance or pricetag of this modern day re-interpretation of the classic Porsche hasn't been revealed. For more information contact DP Motorsports.