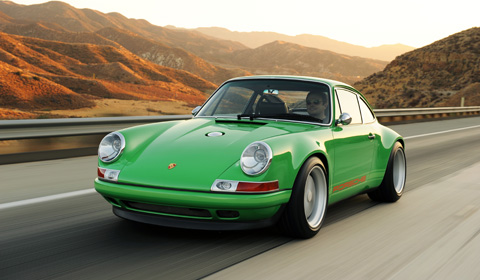 Singer Vehicle Design builds a fusion between of the original 911 and modern materials, design, and updated technologies. Now Singer unveiled the first production version of its 911. The California-based company sees this process as a modest contribution to the recycling culture and one by which old 911s are reclaimed and perhaps saved from an uncertain future.
Singer Vehicle Design purchases fully road legal pre‐1994 Porsche 911 Coupes for the basis of construction. The cars are comprehensively stripped, cleaned, treated for rust prevention and strengthened. A carbon fiber bodywork attributes of extreme strength and a light weight. Newly developed front and rear spoilers increases the high‐speed stability.
The standard suspension features uprated Bilstein adjustable dampers and coil over Springs. This suspension is specified and set up to offer a compromise between daily usability and sporting potential. But a optional sport suspension package is also available.
The Singer 911 utilizes the 5 speed Getrag G50 transmission from the 964 series and comes with the option of a limited slip differential. Singers offers a choice of three air cooled flat six engines, all with specific characters and capacities from 3.6 liter to 3.9 with an ultimate power range of 300‐425bhp. This car will accelerate from 0 to 100km/h in less than 4 seconds and the top speed is 274km/h.
For deceleration the Singer 911 uses the complete braking system from the 993 series including four piston Brembo calipers and drilled rotors. An optional upgraded braking package is also available. This system taken from the 993 Turbo and provides even greater stopping power.
The singer 911 has wheels in the style of the iconic Fuchs wheels designed in the 1960's. Just like the exterior, the Singer 911 comes with an interior with a retro look, which can be personalized through the selection of certain optional materials and fittings. Prices starts a little under $ 200,000.
For more information visit the website of Singer Vehicle Design.