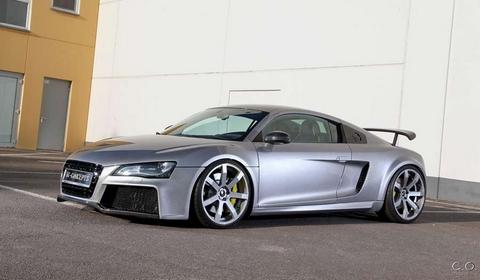 Berlin based tuner, TC Concepts, has created a new kit for the Audi R8 sports car called "Toxique" and when looking at the pictures we can understand the choice of name.
According to our source, GermanCarScene, the package comes with a new front bumper, side skirts, mirror caps, complete rear fenders with integrated intakes and eroded wheel arches. At the back you will find a new bumper featuring larger vents with single fins and an aggressive looking diffuser with double R8 GT looking 160mm tailpipes.
Furthermore, TC Concepts, offers a stainless steel cat-back exhaust with valve flaps, R8 GT LED Rear lights, a rear wing and a choice of H&R springs for the cars suspension. To finished the outside looks you will bet 8.5×20 inches wheels in front and 10.5×20 inches at the back.
On the inside the R8 got carbon fiber trims in the dashboard, steering wheel, seats and door panels.
The complete kit can be yours for just € 16,800, but if you are interested you will need to hurry, as TC Concepts has limited the production run to just 25 pieces.