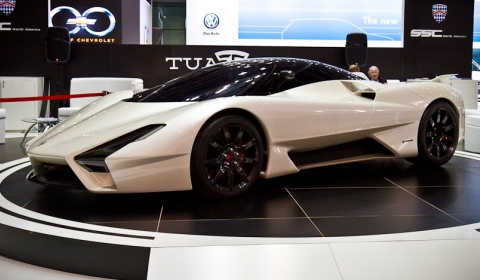 The new SSC Tuatara has been officially revealed in the Middle-East. The US company Shelby Super Cars revealed the hypercar concept at the Dubai Motor Show 2011 that kicks off today.
The SSC Tuatara is powered by a 6.8 liter DOHC V8 twin-turbo which delivers approximately 1,350hp. The SSC Tuatara weighs only 1,200kg and is RWD. Putting the power-to-weight ratio, even with fluids and the quivering driver strapped aboard, is will exceed 1,000hp per tonne. 0-60? SSC claims 2.8 seconds and a maximum speed of 442km/h (275mph).
Check the pictures and the exclusive video below!
Video SSC Tuatara
[Photos by Sam Moores for GTspirit]