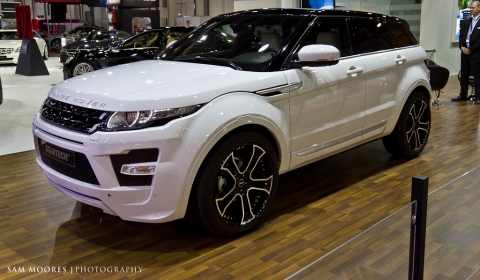 After the official release of the Range Rover Evoque by Startech on Tuesday, the Germans have now released the program to the public at the Dubai Motor Show 2011. Our guys are at the event and shot some pictures and a video showing you the complete package.
The Startech Evoque has a lot to offer. The program includes custom-tailored 21 inch forged wheels, a ride-height lowering by 35 millimeters, a sport exhaust system and interior options. The SUV also got a new front and rear fascia with integrated diffuser and the new tail pipes. Additional products such as for example engine tuning are currently under development.
For a complete overview of all the parts fitted to the Evoque displayed in Dubai, check out our official page on the release right here.
Range Rover Evoque by Startech at the Dubai Motor Show 2011
Range Rover Evoque by Startech Official Images
Video Range Rover Evoque by Startech
[Photos by Sam Moores for GTspirit]