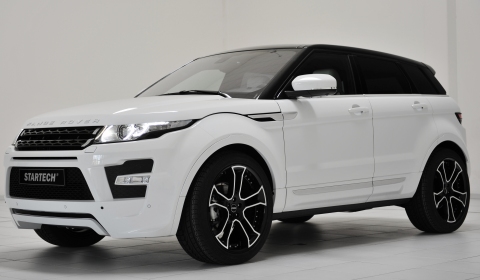 At the 2011 Dubai International Motor Show, Startech will officially release their program for the Range Rover Evoque. The program includes custom-tailored 21 inch forged wheels, a ride-height lowering by 35 millimeters, a sport exhaust system and interior options. Additional products such as for example engine tuning are currently under development.
For the three-door and five-door Evoque the Startech designers have developed a styling program manufactured from Pur-R-Rim plastics. The SUV received a new front and rear fascia with integrated diffuser and the new tail pipes. It can be combined with the production exhaust or with the Startech stainless-steel rear muffler. The new rear wing rounds out the new sporty appearance.
The suspension engineers have developed three-piece wheels with a diameter of 21 inches. The Monostar R wheels in size 9Jx21 have a five-spoke design and an unusual black-painted wheel spider with polished contours. These wheels are mounted with street tires in size 265/40 R 21. Alternatively they can equip the Evoque with one-piece, cast Monostar R wheels in sizes 9Jx20 or 9Jx22.
A set of sport springs are available for all Evoque models with front-wheel or all-wheel drive and lower the SUV by some 35 millimeters.
The Startech performance kit for the 2.0 liter SI4 gasoline engine that normally produces 240hp is already in the final stages of development. Further tuning kits will follow.
For the interior the program comprises accessories such as an ergonomically shaped sport steering wheel and aluminum pedals, foot rest and shifter. Startech also fulfills any special request for custom interiors in its upholstery shop.