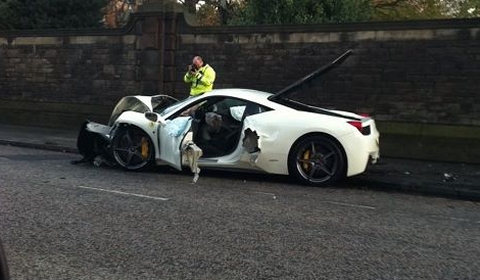 Just a few minutes ago we received information that a Ferrari 458 Italia was wrecked today in Edinburgh. The Italian sports car shown on the pictures was photographed by people passing by the crash scene.
The damage is extensive, even the airbags were deployed. According to eye witnesses at the scene, the driver was doing three times the allowed speed limit, which is 30mph. They also stated that a Land Rover was involved in the crash. The owner is a local business owner.
The crash happened on the Queensferry Road in the Scottish city in front of a local school.
These videos show the Italian sports car when it was running smoothly through the streets of Edinburgh.
[Information via Chris Wilkie]