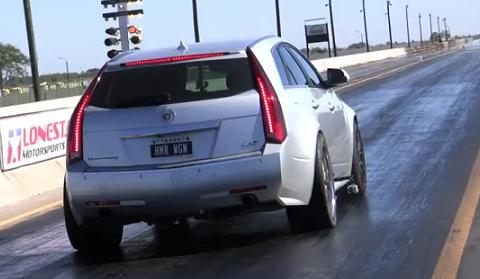 Earlier this year we showed you a video of the Hennessey's Performance Cadillac CTS-V Wagon doing burnouts on a drag strip somewhere in the US. Today the American tuner released a new video showing a quarter mile run in the CTS-V Hammer Wagon.
How much power is been released to wheels isn't known exactly with this particular car, but what we do know is that the car reached a top speed of 134mph (215km/h) after only a 1/4 mile (0,4km).
Hennessey Performance offers five tuning upgrades for the Cadillac CTS-V Coupé and Wagon. Starting with a V600 package followed by the V650, V700, V800 to V1000. The numbers are of course with respect to the output of the car. Enjoy the video!