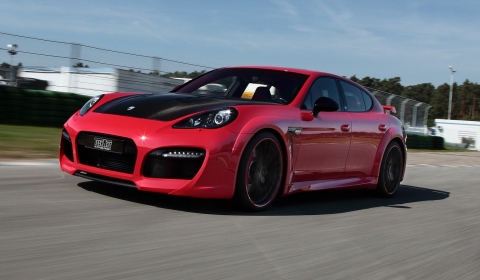 The constant spree of brand new releases from TechArt in Leonberg has a new addition today. Following numerous releases close to the IAA 2011, the Germans presented today two new power kits for the Porsche Cayenne Turbo and the Porsche Panamera Turbo. An increased performance of up to 660hp and 630hp as well as impressive 880Nm for both vehicles.
The second level of performance gives the Cayenne Turbo a plus of 160hp and 180Nm of maximum torque. The results are 4.2 seconds to 100km/h – half a second faster as the series model and a top speed of 305km/h. The engine conversion involves the installation of newly developed turbochargers, a sport air filter as well as manifolds. The engine styling package in carbon-fiber is the final touch under the hood. At the back a dynamic and sporty sound is guaranteed due to the sport exhaust system with sport tailpipes in polished stainless steel.
For the Panamera Turbo the German tuner a similar engine setup offering 630hp and 880Nm of maximum torque. The four-seater reaches the 100km/h in 3.7 seconds, after 12.3 the needle passes the 200km/h mark, and the top speed is 326km/h.