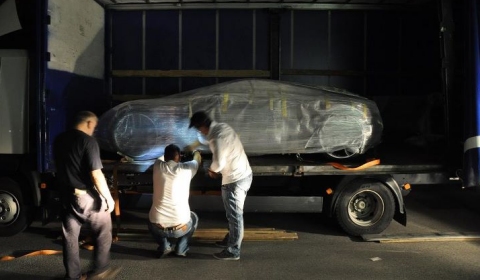 The latest picture by Rimac Automobili shows their electric One Concept hypercar being transported to the IAA 2011, starting on Tuesday in Frankfurt, Germany.
The power train of the car is fully electric. Each wheel of the Rimac One Concept is driven by is independent powered by an electric motor, inverter and reduction gearbox. This system enables the Rimac One Concept to produce a massive 1,088 horsepower and an even more impressive 3,800Nm of torque.
Since is weight is kept to 1,650kg, the car accelerates from standstill to 100 km/h in 2.8 seconds while its top speed is electronically limited to 305km/h. Rimac Automobili claimes a range of 600km thanks to the battery capacity of 92kWh.
More on the electric hypercar can be found right here.