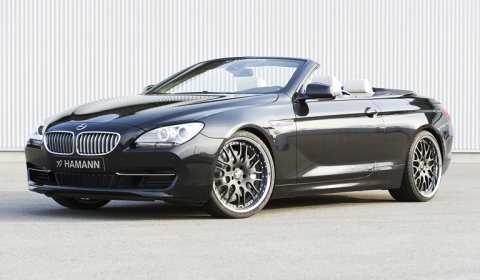 Hamann has released the official details of their customization options for the latest generation BMW 6 Series Convertible. To some of you this car might look familiar, that might be because we already published the images of the Hamann 6 Series Convertible in March.
Back in March Hamann promised us a full body kit, interior refinements and technical upgrades at a later stage. Sadly they won't show us anything new yet but promise the official release of the full package at the IAA; Frankfurt International Motor Show in September.
What they did send us this time are the specifications of the modifications available today:
Hamann offers three different sets of wheels in 20 and 21 inch including the Design Edition Race "Anodized" with high-gloss chrome-plated rim flange, black spokes and titanium screws and the Design Anniversary Evo wheels in silver or matte black. Hamann Motorsport also offers the Design Edition Race matte black wheels in a 20 inch version. All three wheels are visible in the gallery below.
Hamann used progressive suspension springs to lower the 6 Series Convertible with 30mm in the front and 25mm in the rear. A stainless steel exhaust system consisting of a four-pipe exhaust system with round 90mm tailpipes and a middle should give the BMW 650i convertible a sportier sound. Inside the BMW 6 series Convertible the modifications available so far are fairly limited with an aluminium set of pedals and footrest, and Hamann branded floor mats.