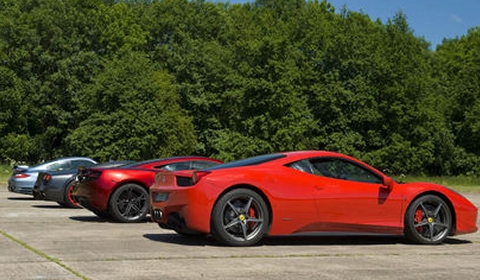 And so it became 3 – 1 for the Ferrari 458 Italia. EVO Magazine has made it 3 – 1 during their test of the MP4-12C against three of its toughest rivals; the Ferrari 458 Italia, Noble M600 and Porsche 911 Turbo S.
In three single videos you will see a drag race and flying laps of the different sports cars. EVO's Nick Thrott, Harry Metcalfe, Roger Green and Andy Wallace talk you through the story and the three clips.
McLaren MP4-12C lap time
Ferrari 458 Italia lap time
Noble M600 lap time
That is 1:20.6 for the MP4-12C and 1:19.3 for the 458 Italia. 1.3 seconds faster! In a straight line the McLaren will smash almost any sports car, but on a high speed lap the Ferrari wins with ease.