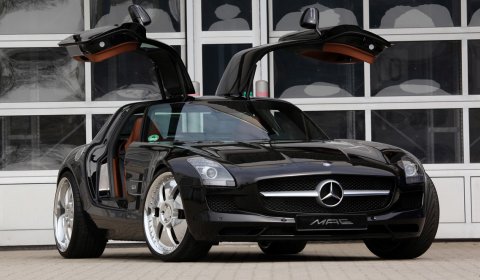 For many years, MAE was known for its tuning. In Berlin, MAE is now taking off for real again under the management of Yüksel Akkus, the official license holder representing the brand of MAE in Germany exclusively. The new Berlin headquarters, which also house a shop, opened on 23 April 2011.
Branches are located in Munich and Marburg, offering the traditional wheel rims as well as new designs like the brand-new "Majestic" wheel. This wheel rim with its turbine looks even has screwed-on rotor blades. The wheel rim can be delivered with flat and fine double-stage bed. It is available in widths from 8 to 14 inch; the diameter range goes from 20-24 inch.
Another new product is the re-launch of the "Crown Jewel" wheels, also available in many different sizes. The range here goes up to 7.5 inches outer bed. The black CL 500 uses wheels in the sizes of 11.5×20 inch in front and 12.5×20 inch at the rear axle. The Michelin tyres in 285/25 and 305/25 are added to the package.
The new "Crownia" wheel rim has entered the ring and is outfitted to the SLS in dimensions of 9.5 and 11.5×22 inch. With 315/25 rear tyres and 265/30 rubber at the front axle, the gullwing does not lack traction. The delivery range will be continually developed over the next years, so that the wheels will be available in more and more sizes and bolt circles.
There are also some other areas with new offerings. MAW offers lowering modules for serial air-suspension car bodies. They can be remote-controlled via the phone buttons in the original steering wheel. This means that the car can be lowered by the push of a button! Apart from this, stainless steel exhaust systems are offered in three different volume stages. A body kit is on its way and will be released in the Autumn.