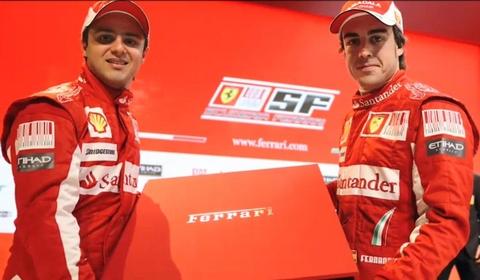 Ferrari is offering a very exclusive collectors item. This time it's not a car, but a book with the entire history of the company. Named "The Official Ferrari Opus" the ownership is expected to be the privilege of a very small group. The book is offered in several layers of exclusivity.
Firstly there's is an "Enzo edition", named after the marque's founder and limited to 400 copies, each priced at $ 37,500. Each red leather bound Enzo edition comes in a carbon fiber case and is personally signed by all living Ferrari world champions on an individually numbered, silver-foiled signature sheet.
Secondly there's the 500 copies limited "the Cavallino Rampante edition", personally signed by Ferrari greats, past and present. This edition is priced at $ 7,000.
Thirdly there's the "Classic edition" which will be pressed in 4,100 copies and will be sold for a price of $ 4,100. This one is signed by the current Ferrari F1 drivers Felipe Massa and Fernando Alonso.
Just when you think all madness has come together, there's still the "Enzo Diamante edition". A special edition of your normal "Enzo edition" that can be dressed with a Prancing Horse logo adorned with 30 diamonds. Price for this will be $ 275,000. Next to the diamonds each buyer is entered into a drawing for a replica of the Formula One race car driven by Michael Schumacher.
[Via The New York Times]