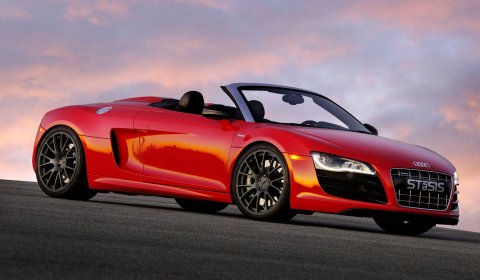 The STaSIS R8 V10 Spyder with 710bhp was introduced at the SEMA 2010 show and released to the US market at the end of last year. The North American specialist has now revealed that they will ship to the package to the UK, making it available for the European market.
The Challenge Extreme Edition package is available for both the coupe and the spyder. Based on the R8 V10, STaSIS has added a supercharger and sports exhaust to the engine, upping power from 518bhp and 530Nm to 710bhp and 709Nm. This improves the 0-100km/h time with at least one second up to 3.1 seconds, 0.6 seconds faster than the stock model.
Additional upgrades are the bespoke Ohlins dampers, lowered suspension by 20mm, enlarged Alcon brakes (390mm front and 355mm rear with two piece floating discs) and lightweight 20 inch wheels.
The Challenge Extreme Edition package for the Audi R8 V10 is available through the British APS of Brackley distributor for £ 45,000 or € 51,000.
Anybody willing to do a drag race or a comparison between this supercharged R8 and the bi-turbo R8 from German tuner MTM?