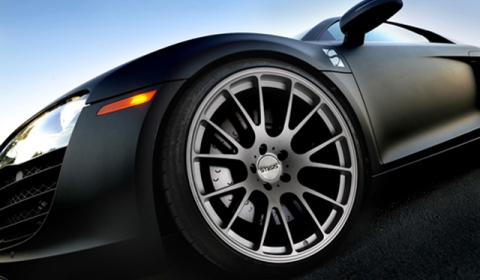 Audi is heading to the annual SEMA tuning show in the US. They will make their first ever official appearance. To celebrate this, Audi America has asked US-based tuner STaSIS Engineering to create a very special one-off R8 V10.
Based on the R8 Spyder V10, STaSIS has added a supercharger and sports exhaust to the engine, upping power from 518bhp and 530Nm to 710bhp and 709Nm. This improves the 0-100km/h time with at least one second up to 3.1 seconds.
Additional upgrades are the bespoke Ohlins dampers, lowered suspension by 20mm, enlarged Alcon brakes and lightweight 20 inch wheels.
Also on display on Audi's stand will be its autonomous TTS Pikes Peak technology concept, and an S5 Cabriolet, Q5 and S4 which have also been modified by STaSIS. STaSIS products are available throug Audi dealers in the US, including a four-year, 50,000-mile warranty.